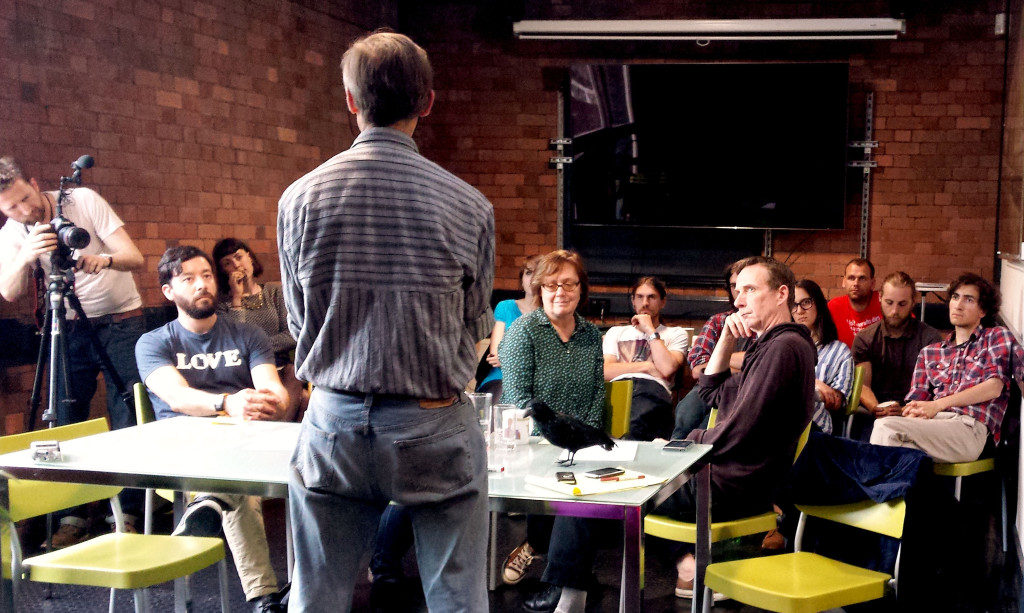 A Fantastic day long workshop with Ken Eklund (organised by the amazing Jess Linington for the Digital Cultures Research Centre hosted at the Pervasive Media Centre… I'm always wowed by how much INTERESTING one city can hold) where Ken with puppet master skills gamed us into designing and pitching an authentic fiction targeting an ecological issue which we were to budget for & pitch to a dummy panel of generous industry pros who gave up their time to hear and give feedback.
Ken's process perfectly demonstrated his ideas giving us a self-persuasive learning experience. What a clever chappy.
The essence of it was –
Authentic: Multi-sourced & multi-authored. Open to new information. Emergent.
Fiction: Immersive. Playful. What if Scenario.
These things together bring about play, a self persuasive learning experience.
It was really challenging, when presented with Ken's amazing projects it was hard to focus on the learning objectives of the workshop rather than with coming up with a worthy idea & pitch. The nice folks I was grouped with had very different objectives & motivations which wasgreat because it pushed the edges of my ideas but was also challenging because we didn't agree on anything. At all. Almost… Lucky for us they were totally great characters and our discourse left us stimulated & provoked in the best possible way.
The idea we finished with was to take data on the agricultural output of the UK and create a days food stamps using only an evenly distributed & accurate representation of what would be available to a person if we only had British Isle grown food. The bleak prospect of drastically reduced intake & variety would come with an invitation to contribute to a digital archive with a creative but real world response to what you would do in this situation and having submitted those responses to then document & submit a recipe (with photo) of the meal using only the ingredients fictitiously available to you. The event would culminate in a pop up restaurant serving the most up voted responses & recipe outcomes.
The hope is that in considering the problem of large scale mono-crop agriculture & reliance on imported goods the food stamp fiction would challenge people to seek out community agricultural projects, allotments, locally produced green grocers, organizations like the the Land Workers Alliance or Farm Hack as well as being an open enough format for new information to emerge and contribute to a hopeful narrative about what we will eat, culminating in actually eating it.
Having spent hundreds of hours researching food issues while involved in Rising Up, food security & the disconnect between local government strategies from our food needs is really high on my personal agenda as an activist. I'm really grateful to the pair I was teamed with for bringing their specialisms and experience to the issue I wanted to tackle.
Photo credit: Jess Linington